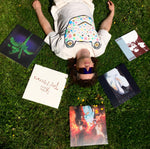 In May 2022, we released Familiar Science, JOYFULTALK's kaleidoscopic third album for Constellation.
For the occasion, we asked Jay Crocker to share some thoughts on his favourite Constellation records. 
Click here to shop JOYFULTALK's collection at a specially-discounted rate.
Alanis  Obomsawin – Bush Lady
"Probably one of the most important re-issues in Canadian history. Bush Lady is a history lesson through sound and song.  Musically pure and lyrically uncompromising, this record is a folk masterpiece."
 Jerusalem In My Heart –

 

Qalaq
"I saw Jerusalem In My Heart at Le Botanique in Brussels. It was an amazing set and such a great introduction to the project. Qalaq is such an intense, deep and solitary listen for me. I often do my listening sessions at the beach, and in Nova Scotia in the fall the beach can be completely empty. Just you, the ocean, sand and the sky. Qalaq deeply affected me that day – there is so much sadness, despair and anxiety in those pieces and they really make me question the space and energy I inhabit in the world, the privilege I have and how to maintain hope as the world burns...... sonically it sounds incredible...... and that box set ....whoa."
 Land Of Kush – Sand Enigma
"In like 2006 or something, I was performing at l'Envers in Montreal with No More Shapes.  After my set Sam approached me about the pedals I had built, and we ended up hanging out and chatting about all kinds of things. He was so genuine, interested and just..... a sweet person. I had been a fan of his before I met him so meeting him and having him be so curious and generous, was so validating for me. Sand Enigma
 

is my fav Land Of Kush to date. For me it has all the elements of what I love about Sam's large ensemble works. Amazing free sections, complex time signatures, chaos, beauty.... you know all the shit."
 Matana Roberts – Coin Coin Chapter 1: Gens de couleurs libre
"......this record, for me, is terrifying, beautiful, brutal and joyous, puzzled together through excellent musicianship and ultimately... truth to power. Matana's artistic voice and expression has such true intensity and tenderness. The sax playing is ripping and it is an amazing document of Montreal's jazz and improvised music scene of that time."
Sandro Perri –

 

Tiny Mirrors
"What can I say.... everybody loves Tiny Mirrors."